In order to maintain as safe a working environment as possible for passengers, air crew and airside employees, the remit for those working in airport wildlife control inevitably goes far beyond the perimeter fencing.  Humanely dispersing wildlife hazards such as a flock of Canada geese from close to the runway, for example, doesn't necessarily mean those geese will then disperse far away from the vicinity. Clearly, there's a pressing need to be ever more vigilant at airports of all sizes.
Outside of the airport area itself, birds can still gather in large numbers to feed or to find safe havens against predators.  A number of aviation authorities have specified the need to monitor the risk of bird strikes.  This will be across a 13-kilometre radius of the aerodrome.  As a result, many airport managers have had to recalibrate the way in which they monitor and report avian activity. Over an area as large as this, there could be any number of potential issues that can affect bird behaviour.
One airport, Abu Dhabi International (AUH), has been extremely proactive in this matter, thanks in part to the acquisition and usage of Scarecrow's powerful Off Aerodrome Reporting (OAR) tool. OAR is easy to use, and it can be integrated for use alongside Scarecrow's B.I.R.D. Tab System.  This gives airport personnel unprecedented access to vital information that will greatly enhance the accuracy of data analytics within activity reports.
The fully automated OAR tool used by AUH is dynamic and adaptable.  It provides time saving benefits, easy access to images and historical data whilst 'in the field' undertaking site surveys.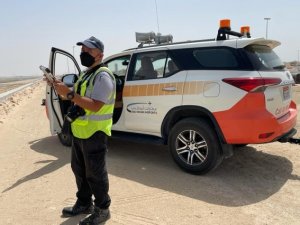 As with all other facilities, AUH has its own individual issues to deal with. These include the presence of some 5,000 flamingos that have been known to gather on a nearby nature reserve. Although the birds haven't entered within that 13km radius, the OAR tool has helped the authorities to monitor their movement.  Any changes in behaviours towards the aerodrome 13km zone could therefore be noticed and acted upon more effectively.
There are more issues that can have a dramatic effect on bird activity and movements at Abu Dhabi. This includes the presence of substantial amounts of standing water – a powerful magnet for hungry birds looking for insects – as a result of daily testing of the airport's fire engine water pumps. The testing is a necessity for the facility's safety requirements.  The most suitable solution involved engineering controls with the installation of additional gratings and soakaway systems.
Plans to build palaces close to the airport perimeter were resisted strongly by airport authorities.  They were fully aware of the prospect of pigeons and doves congregating in ever greater numbers around the buildings. These plans were eventually dropped.  This was a great relief of those charged with the safety of the airport and its end users.
It is well understood that you can't remove the wildlife risk completely but you can take steps to control it.  AUH has managed many of the attractants at the airport through a three step process; eliminate, substitute, implement engineering controls.
Measures such as these, allied to the use of Scarecrow's OAR system, have helped AUH to be named as the UAE's best airport for wildlife control for the past two years. A deserved accolade, especially in light of how proactive the wildlife management team has been.