Following on from the launch visit in the summer of 2018 (https://www.scarecrow.eu/other-scarecrow-news-2018/) Scarecrow director, David Randell, together with Alex Moffatt from Aviaire, visited Daytona beach International Airport.
The last 12 months or so has largely been about building good quality data, and the wildfire staff at Daytona have fully embraced the use of the Scarecrow B.I.R.D Tab (https://scarecrow.eu/bird-tab/ ) software on a daily basis for this purpose.
This main purpose behind this phase two visit was to gain first hand knowledge of the operational environment, and the challenges faced, as well as the surrounding areas which represent a major attractant to different bird species. Armed with this information, the next stage is to start actively work with the airport operations staff and the airport Wildlife Biologist to analyse the data with a view to recommending wildlife mitigation activities.
Operational Staff, with their wildlife patrol vehicles, exchanging information.
Alex Moffatt, Director Aviaire Limited, bringing his many years of active wildlife management to Daytona.
Wildlife team at Daytona showing the ease of logging data on the Scarecrow system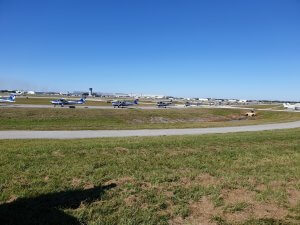 The Embry-Riddle on site flight training school means a constant approach to wildlife control is required at Daytona.